About Braylon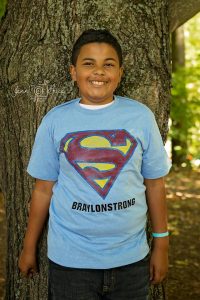 Braylon Jack Griggs was born on September 3rd, 2004 a healthy happy baby boy we had prayed for. At age 2 he could not be stopped, he was the most curious little boy; into everything exploring the world around him. Braylon was incredibly intelligent and was reading before his 3rd birthday. He loved facts, and everything related to science, animals and the universe. At the age of 5 he was diagnosed with Asperger's a form of autism.
Autism never held Braylon back, he loved to share his "fun facts" with everyone he met. He would tell jokes even if he was the only one that laughed at them. If music was playing Braylon would be showing off his fancy footwork for all to see.
He was proud to be a momma's boy and didn't care who noticed. His older sister Lexie was his idol, he thought that she was the most beautiful and smartest girl in the world. They had an amazing bond that could never be broken. He was a pure joy and an inspiration to all those that were blessed to meet him.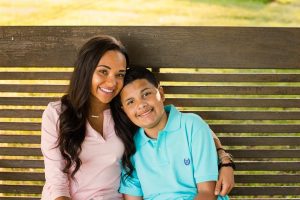 Braylon loved to cloud watch, smell flowers, gather rocks, play in rivers and streams, catch lightning bugs and watch the stars. He absorbed so much of the beauty that so many of us take for granted. He was the boy that gave everyone a high-five or a hug at school as he walked down the hallway, a welcome smile to those around him.
At the end of fifth grade he began getting sick, headaches, double vision and vomiting. After several trips to the doctors and ER Braylon was diagnosed with a brain tumor on May 20th, 2016. We were told he had a bilateral diffused thalamic astrocytoma and he was immediately rushed into surgery to relieve the pressure on his brain. Because the tumor was intertwined with his thalamus there was no way it could be removed, our only options were chemotherapy and radiation.
After several surgeries, 15 months of chemotherapy, 2 months of proton radiation and multiple opinions from the top hospitals in the country Braylon lost his battle after fighting for 17 months. During this journey Braylon wanted to share his journey with as many people as he could to spread awareness, this is how Braylonstrong was formed.
We made it our mission to spread love and joy to those around us. Braylon loved to practice random acts of kindness. He would ask to pay for the car in the drive thru line or buy a gift for someone else. His last gift was collecting thousands of dollars in art supplies, toys and gift cards for his last birthday (13) and donating them to the cancer floor at Mott Children's Hospital.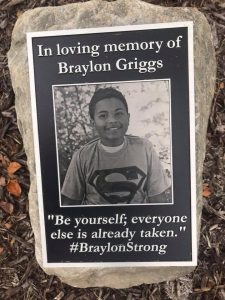 Shortly before Braylon gained his angel wings, I knew there was one thing I had left to do, I contacted his oncologist and set up a brain donation so that in his passing his tumor would be removed and studied to find a cure. Not only were we able to donate the tumor but also his brain to study autism. We also started Braylonstrong a non-profit brain tumor foundation to raise funds to finding a cure for pediatric brain cancer. On earth and in heaven our sweet boy will continue to make a huge impact on this world.