Teamwork Makes The Dream Work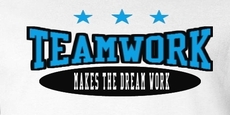 In the biggest tragedy of my life I have been blessed to meet some truly wonderful people. April 11th 2015 I lost my 13 year old daughter to a brain tumor (Anaplastic astrocytoma). Before she passed away her and I started a childhood cancer charity called  "A Mission Of Love". The goal of our charity is to offer emotional and financial support to childhood cancer families. We also give out a monthly gift called our Best Day Award and work with other childhood cancer charities. When we say teamwork makes the dream work, we actually practice it and not just say it.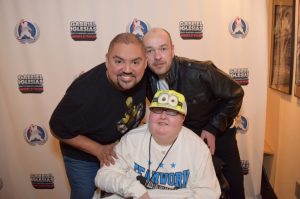 I believe with childhood cancer it should be all vs one, instead of one vs all. Braylonstrong is now the 5th charity we work with in the state of Michigan. I used one of our Best Day gifts to make a donation to Braylonstrong and thanks to Jennifer she has helped find a young girl we will be giving our November gift to. I first learned about Jennifer and Braylonstrong from a friend of mine Dave Landau. Dave is appearing on one of our live event fundraisers called Comedy 4 Cancer in January. Dave Landau performed at a comedy show fundraiser for Braylonstrong, not that long ago.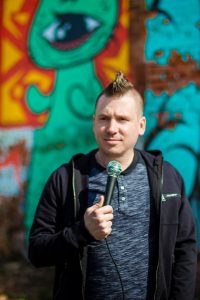 Thanks to Dave performing at that show. I got to know Jennifer and also got to know more about Braylon. Instantly I was moved to work with them. I first offered for us to team up and run a Comedy 4 Cancer show together. As I write this we're currently looking at venues in the Tecumseh and Clinton MI area.
Next I asked Jennifer is they had a website, they didn't so I offered to build what you see now. Building this website has been very rewarding. It has taught me more about what a sweet, caring and kind person Braylon was. I can't help but feel a little sad that my daughter and I never met Braylon. What I can do is hope they are now together, looking down and are happy with the work we're doing to keep their names alive.
As I started this website the very first picture I wanted to use on here, is the one you see near the top of the main page. When looking at that picture. I got a wave of emotions that ran through me. The more I looked at that picture it wasn't family members just looking at Braylon. It was much more than that, you can see the love and admiration in their eyes.
I think I speak for Jennifer when I say we hope no other family has to deal with the tragedy of losing a child, like we did. After facing the loss of a child, it's easy to just give up. Instead we are both driven by passion to help others battling childhood cancer and raising awareness for pediatric cancer. We're driven by keeping our angels names alive here on earth. We don't do any of this for us. We do everything to honor them.
Like I wrote earlier. I wish I would have had the pleasure of meeting Braylon. Building this website kind of makes me feel like I did. Somewhere out there I know your looking down. I hope you're happy with this website and please know i'm just another person, like so many others who's life you touched.